Home Pick-up & Delivery
Dry Cleaning & Laundry Service
Fabricare offers home pick-up and delivery dry cleaning and laundry service throughout Fairfield County at no charge to cities from Darien to Stamford, Greenwich to New Canaan, and everywhere in between. You have the options of having regular weekly service or on-demand. We've even developed an app as an option for you.
Get Started with Home Pickup Today!
CALL

: our office at 203-229-0001.
FILL OUT the form below.

DOWNLOAD

our app (iTunes).
LEARN MORE – read more out about our best-in-class home pickup and delivery dry cleaning and laundry service.
Home Pickup & Delivery Laundry & Dry Cleaning: Info
More about our Home Pickup and Delivery Dry Cleaning Service
Today's busy consumers want something better than old-fashioned dry cleaning or even wash and fold service. The busy businessman or businesswoman in Greenwich, Connecticut, wants a home pickup and delivery dry cleaning service that pick the laundry up at the doorstep and then brings it home again. Convenience is the mantra of everyone in towns as diverse as New Canaan and Darien, Westport and Stamford, and even Norwalk or Trumbull. Today's Connecticut consumer or housewife / househusband is too busy to be bothered with gathering the laundry or dry cleaning, putting it in the car, driving it into the dry cleaners or wash and fold station, and then coming back to pick it up. Fortunately, Fabricare is a leader in the industry trend towards dry cleaning and laundry service that is both home pickup and home delivery.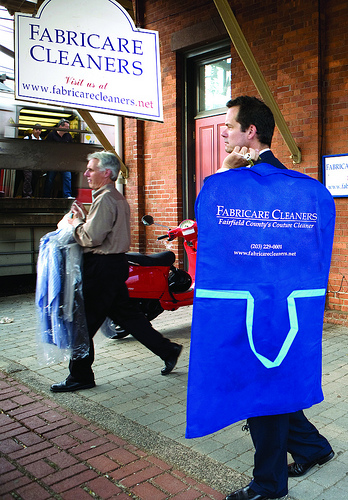 "How does it work?," you ask. Well, let's explain it, step by step. First, you need to sign up for our home pickup and delivery service. It's easy. Just call us or use the web form above. Tell us a little about your needs. Next, we'll drop by a bag for you to put your dry cleaning and laundry in. Don't worry about sorting it. Just throw it all in there. Then, our drivers will pick it up at your house; you can arrange to leave it in on the porch or in the garage, wherever is convenient. We then bring your dirty laundry and dirty dry cleaning into our centralized laundry facility. We clean it, up to the incredible standards of ecofriendly dry cleaning quality that we are known for, and we deliver it back to you. Problem solved!
Here are some of the cities and towns in the area accessible on our routes. (If your city or town is NOT listed – don't worry. Just call us, first, as we have many cities and towns on the list and we are constantly expanding.)
Greenwich – Greenwich is obviously one of the most affluent communities in Fairfield County, and of course we service Greenwich with home pickup and delivery dry cleaning. Here's a fun fact about Greenwich, Connecticut – For its first 16 years, Greenwich was Dutch. One of Dutch Director Peter Stuyvesant's first actions was to strengthen his claim to Greenwich to prevent English colonies from establishing themselves closer to the Dutch on Manhattan.
New Canaan– as one of the more affluent cities in Fairfield County, New Canaan has a lot of busy people – people who want to outsource their laundry and dry cleaning to Fabricare's convenient services.
Stamford Home Pickup and Delivery Dry Cleaning – as the largest city in the area, Stamford is the #1 city for our drivers. We love Stamford! Currently the population clocks in at 129,113 as of 2016, making Stamford the third-largest city in Connecticut, behind Bridgeport and New Haven.
Darien – we have a physical store in Darien, so you can bring in your laundry or dry cleaning if you like, but of course we also service it with home pickup and delivery laundry and dry cleaning services. Just call or come by the store to ask in person. We also have physical dry cleaner stores in Fairfield and Norwalk, CT, also both cities are on the list for home services.
Trumbull – last but by far not least, we also service Trumbull, CT, with home laundry services. Just sign up, and you'll be on our list faster than you can say, "clean laundry." Oh, and if you're looking for wash and fold in Trumbull, you have the "right idea" but our service is even better. It's wash, fold, and delivered, so to speak. We also service Trumbull, CT.
In New York state, we are also expanding our services as in Scarsdale and Mamaroneck, Port Chester and Harrison. So if you're looking for the best home pickup and delivery dry cleaner in Scarsdale, NY – guess what? It's actually in Darien, CT. But do you really care? No. What you care about is that our drivers come to you, bringing the convenience of home pickup and delivery dry cleaning to you.
Fun Factoid about Dry Cleaning
Dry cleaning is any cleaning process for clothing and textiles using a chemical solvent other than water. It is used to clean fabrics that degrade in water, and delicate fabrics that cannot withstand the rough and tumble of a washing machine and clothes dryer. It can eliminate labor-intensive hand washing. Unlike what its name implies, dry cleaning is not a "dry" process. Clothes are soaked in a solvent other than water. Tetrachloroethylene (perchloroethylene), which the industry calls "perc", is the most widely used solvent. Alternative solvents are trichloroethane and petroleum spirits. Source: https://en.wikipedia.org/wiki/Dry_cleaning. Of more importance is the emergence of home pickup and delivery dry cleaning which began in the 1980s, and accelerated as more and more people realized that the "convenience economy" could start at home. Today, with the Internet, email, text messaging and even an app, we really make it easy for you to "outsource" your laundry or dry cleaning to Fabricare.