We service Larchmont, NY, with our world-famous home pickup and delivery dry cleaning. OK, maybe it's not world-famous, but it's most definitely CT and NY famous. However, many folks class what we do as specialty dry cleaning because most "normal" dry cleaners wait for you to take your cleaning to them and pick it up again.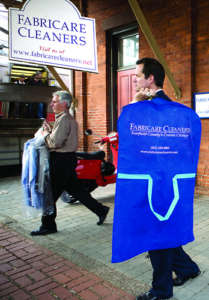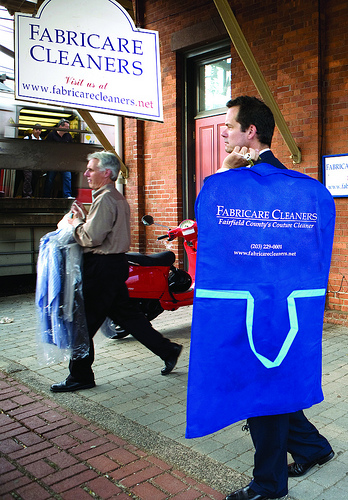 We don't. We collect your dry cleaning and then when it's perfect we deliver it back to you. To us, that's "normal" dry cleaning. As far as we are concerned, specialty dry cleaning is all the other stuff we do. We are not talking your suits and evening dress here. We are talking furs. We are talking leather handbags. We are talking suede shoes (oh, and don't they just get so dirty when you've been out in the mud: don't worry – we can clean them). We are talking your wedding dress. And a lot more. Now THAT's what we mean when we say we are a Larchmont NY specialty dry cleaner.
Just try to get the dry cleaner in town to deal with all that. We have people who are highly trained to clean everything that you own – and we do mean everything – including your carpets, upholstery, drapes, bedding, and a whole lot more.
Suede Cleaning
Just take suede cleaning for instance. You need a Larchmont NY specialty dry cleaner to handle that. Suede is very easy to get dirty, and not so easy to get clean. You need special skills, and we always try to hand clean suede first. If that doesn't work then we need to consider other methods, of which there are several. Sad to say, many "normal" dry cleaners probably wouldn't know of these for the simple reason they have only had basic training, so they wouldn't know where to begin.
What about furs? Lynx, fox, chinchilla, rabbit, beaver, stoat (ermine), otter, coyote? They all need specialist handling. A fur coat is not a cheap item to purchase and so you need it looked after by professionals who understand what they are doing.
What about shoe shine and shoe repairs? Yes, we do those as well. It's not as tricky as furs and sheepskin coats, but we want to offer our customers everything that we can in the way of cleaning.
So if you just want your dinner suit, business suit, or evening dress cleaned, that's what we call "normal" dry cleaning. When you need all those high quality and high cost other items cleaned you need a Larchmont NY specialty dry cleaner, and that would be us. And, of course, for the super time-efficient, we offer home pickup and delivery dry cleaning services in Larchmont, NY.