The town of Bedford (https://www.bedfordny.gov/) goes back over 300 years to December 23rd 1680 when 22 Puritans from Stanford, CT, purchased an area of land three miles square from Chief Katonah and several other Native Americans for some coats, blankets, cloth, and beads. So Bedford is indeed old.
However, today Bedford is very much in the 21st century. It's very tech savvy. Why, everyone has a mobile phone! And nearly everyone has internet! So why on earth would you use Bedford NY wash and fold? How shameful!! Get into the 21st century and use home pickup and delivery laundry and dry cleaning instead of Bedford NY wash and fold. We even have an app for that!
Who on earth wants to pack up all their laundry and dry cleaning, get in the car, take it somewhere where they do both laundry and dry cleaning (some only do one or the other, so you may have to go to two places), drop it off, and then go back home again. Then two or three days later you've got to do it all over again when you have to go back and pick it up! Even Chief Katonah would be spinning in his grave! (He used to bash his loincloth on the rocks in the river, but at least he had an excuse. 330 years later, you don't).
We Make It Easy: 21st Century Wash and Fold Becomes Home Pickup and Delivery Dry Cleaning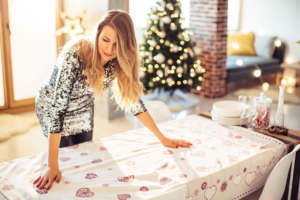 We make it so easy. We drop off some of our laundry bags to your home – or office if you prefer – and all you do is pop the laundry and dry cleaning into them and leave it out for us. You don't have to be at home. We just agree somewhere that you'll leave it, like the porch, the garage, or a shed. Our driver collects it and brings it back to our facility in Stamford where everything is processed, and then a few days later our driver just brings it all back again. Really, what could be simpler than that?
No, you don't have to be at home in order to pay the driver because we just debit your card at the end of the month. We are, after all, now in the 21st century, and wash and fold has gone the way of the dinosaur. As we said, we can pickup and deliver every week on a particular day, or you can download our app from Google Play or the Apple store and schedule your laundry and dry cleaning with that. This is the ideal answer when you have items that don't need regular cleaning like a wedding dress or a fur coat.
Bedford NY wash and fold! Really!!!