People procrastinate. That's nothing new because everyone does at one time or another. However, residents of New Canaan seem to make a habit of it because hardly a day goes by when we don't receive a call from someone in New Canaan who is in a panic because they have put off doing the laundry and now they have no clean clothes left to wear.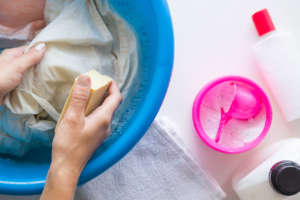 They are desperately seeking same day dry cleaners in New Canaan CT.
At Fabricare, we can help. We called ourselves Fabricare because if it is fabric we clean it, and because we really do CARE. We quite understand why people put off doing the laundry because it ranks as the most boring and annoying chore that Americans have to deal with, or for that matter anyone anywhere else in the world. We are always cleaning clothes, and many people spend several hours doing that every week. A family of four can get through quite a lot of clothes every week, and they all need cleaning and laundering.
Not Just Same Day Dry Cleaners in New Canaan: Much More as a Specialty Dry Cleaning
At Fabricare, we are not just same day dry cleaners in New Canaan CT, we are also a same day laundry service. We quite understand that you may be going away on business for a week and you suddenly realize that you need suits cleaned and you have run out of shirts and so on. Not a problem. We can dry clean your suits and launder your shirts and everything else and have them ready for you by late afternoon, so that you can pack them and leave on your trip early tomorrow morning.
However, here is an idea for the future so that you are not faced with the problem of same day dry cleaning in New Canaan CT. Why not book our home pickup and delivery dry cleaning service? Yes, really. We operate a home pickup and delivery service to New Canaan businesses and residents where we will collect all your laundry and dry cleaning every week, bring it back to our depot, launder and dry clean it all as necessary, and then a few days later deliver it all back to you. You'll never run out of fresh laundry and dry cleaned clothes again!
If you only need dry cleaning occasionally and not every week, we can still call and pick it up and deliver it back to you on an ad hoc basis. We've got an app for that! By the way, you don't have to be at home when we call, because we have a system for that too.