Wedding Dress Cleaning & Preservation
Your bridal gown ("wedding dress") is a significant investment, so let us help you protect that investment. From champagne toasts and cake cutting to outdoor photos and an evening on the dance floor, your gown will inevitably face some damage on your wedding day. For this reason, we strongly encourage our brides to clean and preserve their weddings gowns. Cleaning and preserving your gown is a small fraction of the cost of the gown but provides you with the opportunity to use it again for your daughter or granddaughter someday.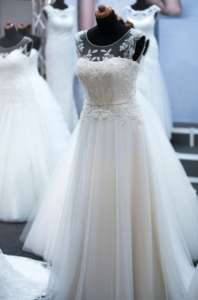 BridalCare by Fabricare, is a stand-alone division of a dry cleaning business who has been cleaning high-end clothes and wedding gowns in Fairfield County for over 30 years. We're known as the top-rated wedding dress cleaning service not only in Darien, Fairfield, and Norwalk where we have physical stores but also in Greenwich and Stamford, Connecticut. Indeed, with service extensions south to the New York suburbs of Scarsdale, Mamaroneck, and Port Chester, we can offer quality wedding dress cleaning services to folks on our popular home pickup and delivery dry cleaning routes.
Fabricare has been recognized as one of America's Best Dry Cleaners and we offer bridal gown cleaning services in Fairfield County with deliveries to Greenwich, Stamford, and, New Canaan. If you're anywhere in the Connecticut suburbs of New York City, or in the New York suburbs such as Scarsdale or Mamaroneck, we probably service your area. Call us today! If you're newly married, first of all let us congratulate you; second of all, let us do the honor of being your choice as a wedding dress cleaning service. Your wedding gown will be thoroughly cleaned and preserved as a keepsake from your special day.
Wedding Dress Cleaning: Some Facts
Cleaning wedding gowns is a different process than regular dry cleaning. Just like there are a variety of different gowns, there are a variety of cleaning methods. At Fabricare, your gown is thoroughly inspected by a dedicated gown specialist. During the first step of the process, your gown is photographed and inspected for any potential issues, necessary repairs, and evaluated for the best cleaning method. It is then handed off to the cleaning department and cleaned according to the best method for the gown. Before cleaning, the cleaning department will test the fabric, beads, and/or embellishments to ensure a safe cleaning. After cleaning, the gown is thoroughly inspected again and re-cleaned if necessary. Once approved by our Inspection Dept, the gown goes to finishing where it is made to look like the day of your wedding and then preserved for the next lucky bride. At BridalCare, we use the best type of preservation boxes, similar to the way a museum would preserve a precious garment.
We also offer cleaning and preservation services for bridesmaids, flower girl, mother of the occasion, and first communion dresses as well as for veils and other headpieces. Indeed, for any type of specialized dress cleaning or specialty cleaners in cities as diverse as Greenwich or Stamford, Darien or Trumbull, give one of our dress cleaning specialists a call!
To learn more about our Bridal Care services, please visit bridalcarebyfabricare.net
Let us help you get ready for your big day then preserve it forever.