Shoe Shine and Shoe Repairs
At Fabricare, we want to make you look sharp from head to toe. We also like to make your life easier and give you more free time to yourself. So, shoe shines and shoe repair services made sense for us to add to our Care services. If you live in Darien, Fairfield, or Norwalk, you can bring your shoes into one of our convenient retail locations for shoe repair services.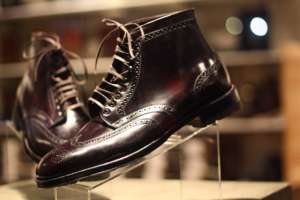 If you're one of our many home pick up and delivery dry cleaning or laundry customers, just leave your shoes in your delivery bag. If it's just a shine, no need for a note. If it's a shoe repair, let us know what needs repair by noting it on an 8 X 10 piece of paper. If dropping off at the store, one of our CustomerCare staff will help you.
People love our shoe shine and shoe repair service! In fact, we've become known as the best kept secret in Fairfield County – that Fabricare is the best shoe repair service in Darien, Norwalk and Fairfield (where we have physical stores) – and even more ironically that the best shoe repair or shoe service in Greenwich or Stamford is the one that literally comes to your home.
It was once said, "you can judge a man by the shine on his shoes." Let Fabricare help you put your best foot forward. Offering shoe cleaning and shoe repairs in Fairfield County and with home delivery service on our routes throughout the County, from Greenwich to New Canaan, Stamford to Westport and back again. We even now offer service to the New York suburbs such as Scarsdale, Mamaroneck, and Port Chester, New York.
Fabricare will make you look sharp from head to toe.