May 31, 2018 – Greenwich, CT. Fabricare, a highly rated home pickup and delivery dry cleaning and laundry service, is proud to announce an update to their informational page on this innovative service. Affluent and busy residents of cities such as Stamford and Greenwich Connecticut are hungry to "outsource" their laundry and dry cleaning to a professional service. The newly updated informational page explains how to do this.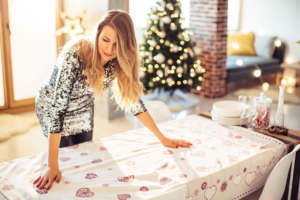 "Life seems to move at a rapid pace today. It's non-stop 24/7,"
explained Michael Astorino, CEO of Fabricare. "We understand that Greenwich CT residents may not be able to squeeze in time for laundry yet not even realize that they can 'outsource' their dry cleaning and laundry to us. That's why we have updated the informational page to highlight all their options including home pickup and delivery of dry cleaning in Greenwich CT and nearby cities such as Stamford."
Interested persons can review Fabricare's newly updated informational page for home pickup and delivery dry cleaning service at https://fabricarecleaners.net/home-delivery/. Professionals living in the Greenwich and Stamford CT areas may not have time to squeeze in a drop off of laundry to a dry cleaning service. Locals in Darien and Trumbull may also have tight schedules with little room for extra dry cleaning errands. All can fortunately be serviced on the home pickup routes. Indeed, those interested in a "green" or "ecofriendly" dry cleaner can visit https://fabricarecleaners.net/environment/.
THE ADVANTAGES OF HOME PICKUP AND DELIVERY DRY CLEANING AND LAUNDRY
Here is background on this release. A basic nine to five work schedule could be a practice of the past for many Connecticut professionals. Virtual offices and an ability to work from any location could mean business hours have become longer with less time to manage personal errands. If a Greenwich professional has an important meeting on the schedule, looking the best could be important. Unfortunately, there may not be time to drop off and pick up business clothing. It may be important for Greenwich residents to learn home pickup and delivery of dry cleaning could be the answer to a hectic business schedule.
For these reasons, Fabricare has announced an update to the informational page on this "21st century" alternative to wash and fold. Greenwich residents could be over scheduled from managing work projects. A top dry cleaning service can handle the home pickup and delivery of all types of clothing. Persons who would like to sign up for the service are urged not only to read about it but to reach out to a Fabricare representative for sign up instructions.
ABOUT FABRICARE CLEANERS
Fabricare Cleaners, with physical dry cleaning locations in Fairfield, Noroton Heights, and Norwalk, and servicing key cities such as Stamford and Greenwich, is the leader in advanced laundry services in New England. The company is an industry leader offering two new services in the dry cleaning industry: home pickup and delivery dry cleaning and same day dry cleaning / wash and fold service. For today's busy customers in cities like Stamford, Greenwich, Darien or Trumbull in Connecticut or Larchmont, White Plains, or Yonkers in New York, these services make life easier than ever. Customers also come to Fabricare as a specialty cleaner of hard-to-clean items such as purses, wedding dresses or shoes. Customers are encouraged to visit the company website or contact the company by phone, as well as to visit its convenient locations.
Web. https://fabricarecleaners.net/
Phone. 203-229-0001