Happy Earth Day! In honor of this important day, we have come up with a list of (simple!) ways YOU can help do you part for the environment all year round: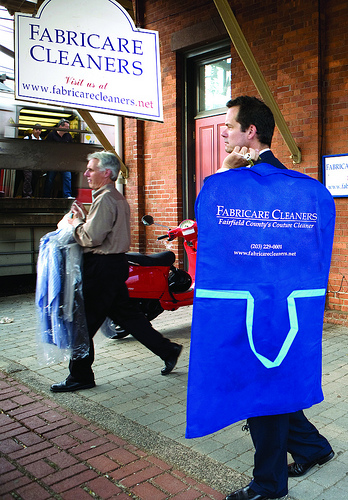 Ditch the car. Whenever possible, walk or ride your bike to the places you need to go. Too far to walk? Grab a friend and car pool!
Turn off the tap. By simply turning off the water while brushing your teeth, you can FIVE gallons of water each day.
Swap your bottles. Instead of buying plastic water bottles, buy a BPA free plastic or aluminum water bottle. And swap the paper coffee cups for a reusable mug or travel mug. You can even buy snack bags instead of plastic ziplock bags!
Start Recycling. It's so easy! All you have to do is place that soda can in a recycling bin instead of the trash can. Confused about what can be recycled? Check out earth911.com to answer you questions.
Shop Green. You have a LOT of options when choosing where to shop or do business – try to choose those that do their part for the environment. Fabricare Cleaners prides ourselves on our eco-friendly cleaning system that is not only gentle on fine fabrics, but also on our planet. Some of the initiatives we take to make our operations more environmentally friendly and, consequently, more efficient include:

We use biodegradable solvents and ozone technology
We offer reusable garment bags called Fab Bags in an effort to reduce the number of plastic bags
We've reduced production schedule from 6 days to 5 saving fuel and energy.
We've upgraded the plant to be more energy efficient by reclaiming unused steam to reheat water and help boilers work less.
We've partnered with power company to change lighting and machinery for better efficiency.
We have skylights in plant for better lighting and less demand on electricity.
Help us celebrate earth day EVERY day by making little changes to your daily life. If we all do our part, these little efforts will go a long way!